Whether you're looking to introduce climbing as a team-building exercise with your company, or you're searching for a fun activity for your students, family, or youth group, we offer a variety of group visits and team-building activities for groups of every size and experience level.
For Friends, Family, Non-Profits, Community Groups, etc.
GROUP VISITS
Hoping to bring a group of six to 20 climbers to Session? Our group visits will help you save you on upfront costs and provide you with the best experience possible.
Each two-hour visit includes staffed event belayers who help to ensure a fun, memorable and safe day of climbing. The event belayer(s) work exclusively with your group to give you the chance to experience climbing in dedicated areas within our facilities. In addition to roped stations, our facility offers TruBlue Autobelays, which allow your group to stay engaged and satisfied throughout your entire event!
Group Pricing:
$280 for up to 8 climbers
$30 for each additional climber
Max of 20 participants
50% Deposit Required for Booking
Includes:
Two hours of climb time
Session Staff Event Belayer(s)*
Harness Rental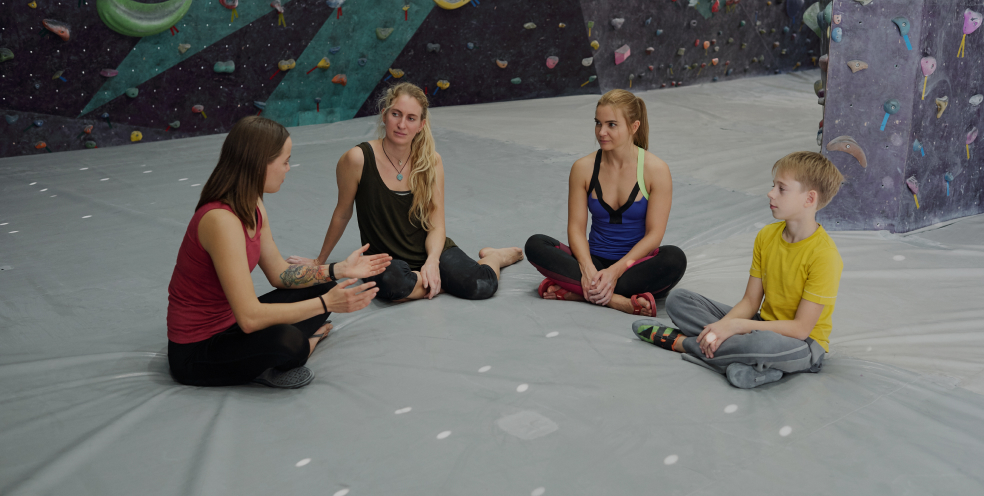 NOTES:
*Event belayers available upon request
Two-week advance notice required
For times not listed or groups larger than 20, contact nadia@sessionclimbing.com for more information about alternative group visit options.
CORPORATE TEAM-BUILDING
Make your next corporate team building event one that leaves everyone talking! Whether you're looking to boost the morale of your sales team, energize a group of employees, or assimilate culturally diverse work groups, we will create team-building visits full of memorable group activities that will put 'team' back into "teamwork"!
Session's Corporate Team Building applies a variety of climbing activities and initiatives that purpose to develop group interdependence and cooperation, raise individual awareness, and improve effective communication. Not only is climbing an exciting and unique activity for groups, but it also encourages creative problem solving, patience and persistence – all of which are needed to set, strive toward and achieve realistic career-oriented goals.
We recognize that every company holds a distinct set of desires and requests and because of this, we purpose to create fully customized, tailored Corporate Team Building packages to fit the needs of your group. Whether you'd like to utilize our facility for a year-end review and luncheon with incorporated team-building activities in between, or are simply looking to spend a few hours one afternoon climbing together, we are happy to create something specifically for you. You let us know what you're looking for, and we will be sure to make it all happen with limited work on your end.